Boomette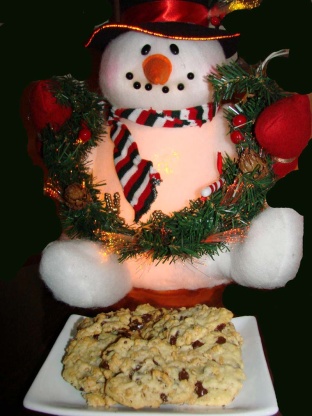 OOH I like these chocolate chip cookies made with rice crispies. I got this recipe out of a cookie cookbook and have never seen another one like it. They are YUMMY!

I already have 2 amazingly awesome choc. chip cookie recipes that my family loves, so honestly I wasn't looking for another. But this one caught my attention when it only called for 1/2 cup butter. I made the recipe almost as stated, I used 1/2 cup white sugar and 1/4 cup brown sugar and reduced the choc chips to 3/4 cup. I also made the cookies smaller (got 45 small but not tiny cookies), so 10 min for baking was perfect. The reason for the few modifications I made was so that these would only be 1 POINT in WEIGHT WATCHERS WORLD. Although these are not my fave cookies (sorry) they really fill in that "I'm on a diet but am dying for a non-diet tasting cookie"! Thanks for sharing!
In large bowl beat together butter and sugar.
beat in egg and vanilla.
sift together flour, soda and salt; mix into wet ingredients.
Stir in crispies, and chocolate chips.
Drop by tablespoon full onto greased cookie sheet 1 inch apart.
Bake at 350 for 10-12 minutes or until lightly browned.