Chocolate Chip Cranberry Muffins
Redsie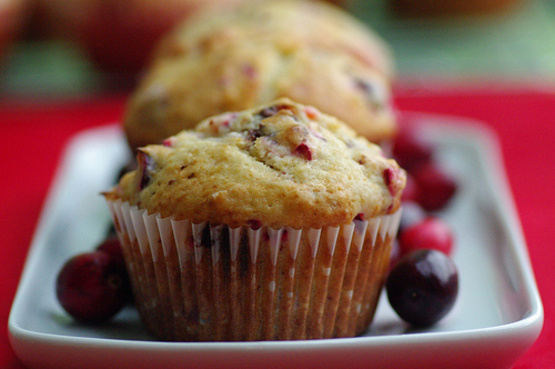 OMG! Chocolate and cranberries - who would have known this was a mix made in heaven???!! Adapted from a recipe from 125 Best Chocolate Chip recipes. You can also use frozen cranberries.
Love these muffins! With the exception of subbing the oil for coconut oil and extra zest, I made it exactly as described. Tart, with just enough sweetness. I also noted they were a bit pale and added a glaze of O.J. and 10X sugar. My minis will be served at an upcoming seminar I'm leading. Sure to be a winner...thank you!
Preheat oven to 350°F.
In a medium bowl, combine flour, baking powder and salt.
In a food processor fitted with a metal blade, coarsely chop cranberries.
In a large bowl, whisk together the sugar, eggs, milk, oil, orange zest and vanilla. Stir in flour mixture, just until combined. Fold in chopped cranberries and chocolate chips. Do not overmix.
Spoon batter into greased or lined (with paper liners) muffin cups.
Bake in preheated oven for 20 minutes or until puffed, golden and a tester inserted into center comes out clean. Let cool in pan on rack for 5 minutes. Remove from pan and let cool completely on rack.