Chocolate Chip Cranberry Cheese Bars
PaulaG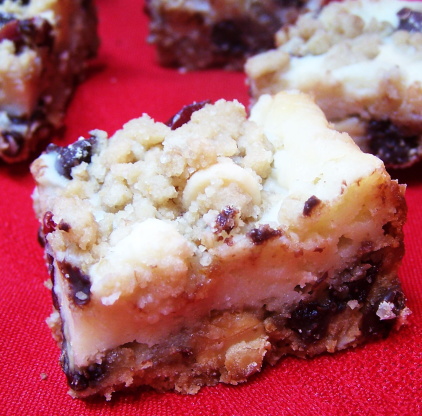 From VeryBestBaking.com - too good not to post! Will try them soon!

Always the first to go on my cookie tray this year. I thought they had a lot of flavors going on. Made half and used an 8x8 pan to bake.
Preheat oven to 350°F
Grease a 13 x 9-inch baking pan.
Beat butter and brown sugar in large mixer bowl until creamy.
Gradually beat in flour, oats and orange peel until crumbly.
Stir in morsels and cranberries; reserve 2 cups mixture.
Press remaining mixture onto bottom of prepared baking pan.
Bake for 15 minutes.
Beat cream cheese in small mixer bowl until smooth.
Gradually beat in sweetened condensed milk.
Pour over hot crust; sprinkle with reserved flour mixture.
Bake for additional 25 to 30 minutes or until center is set.
Cool in pan on wire rack.
Cut into bars.