Chocolate Chip Cookies - Betty Crocker's 1969 Recipe
lazyme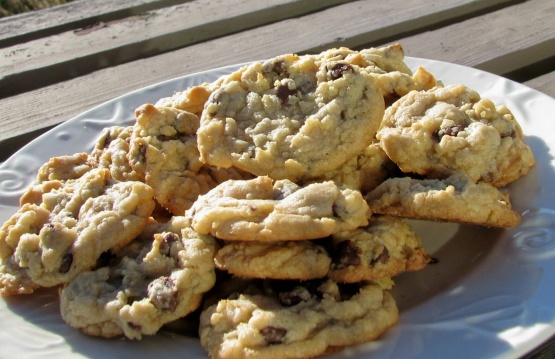 My mom has used this recipe for 40 years now and it is the best chocolate chip cookie recipe I have ever had. The cookie is crisp around the edges and yet chewy at the same time. I will occasionally omit the nuts due to food allergies for those I'm feeding. I get alot of people questioning how all my cookies are the same size, I'm old school and will still use a teaspoon or tablespoon and my fingers to slide the cookie dough off the spoon. No need for fancy ice cream scoops if you don't want to. :) This will surely become a favorite of yours once you give it a try....

In my family, we simply call these "Grandma cookies". My entire life, my Grandma has made these and they are incredible. I'm not sure what she does that makes hers that much better than mine (other than the fact that she's 84 and I'm 26, so experience is a factor) but these are gone in minutes at family gatherings. She even sends the grandkids off to college with them. The biggest thing I can say is DOUBLE THE CHOCOLATE CHIPS. It makes them spread a little less and who doesn't like extra chocolate!
Heat oven to 375 degrees.
Mix thorougly shortening, butter, sugars, eggs, and vanilla.
Stir in remaining ingredients.
Drop dough by rounded teaspoonfuls 2 inches apart onto ungreased baking sheets.
Bake 8 to 10 minutes or until light brown.
Cool slightly before removing from baking sheet.
*If using self-rising flour, omit baking soda and salt.