Pamela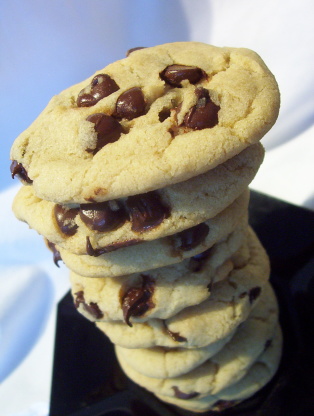 They're good and so easy. A great favourite with kids.

I loved these cookies!! Thanks so much for sharing the recipe!! I made a batch of these to send to my dh overseas. I also loved that they were not oily- i am hoping that they will ship better because of that! Thanks again! I know that I will have to make these again soon! :)
In a bowl stir together flour, baking soda, and salt to combine thoroughly; set aside.
Preheat oven to 375 degrees.
In mixer bowl combine butter and sugars; beat until fluffy and well blended.
Beat in egg.
Add vanilla and mix well.
Gradually add flour mixture until just blended.
Stir in chocolate chips and walnuts (if used).
Drop by rounded teaspoons, placed well apart, onto lightly greased or nonstick baking sheets.
Bake until cookies are well browned (12 to 14 minutes).
Cool on wire racks.