Chocolate Chip Cookies #10
Marlene.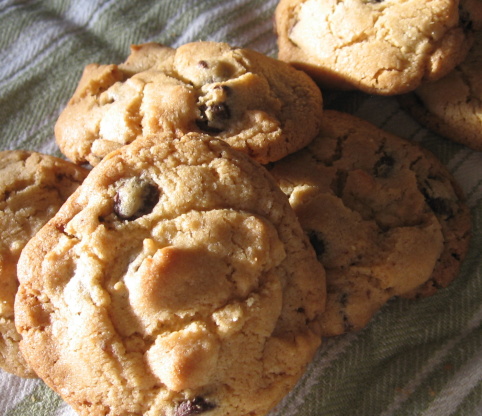 This recipe is from Alton Brown's "I'm Just Here for More Food" cookbook. It's a wonderful recipe. It's the first time I've ever made a cookie that didn't spread flat - a thick, chewie cookie. Terrific!
I trusted your introduction , and wooohoooo!! I , too , can now make a chocolate chip cookie without it spreading to the 4 corners of the earth! LOL Very easy to put together , my first batch came out more crispy than chewy, so the 2nd pan I put in for 2 minutes less ... and I got what I was looking for :) Thanks for posting my new chocolate chip cookie recipe!! :)
Preheat oven to 375 degrees.
Mix flour, baking soda, and salt. Set aside.
Mix granulated sugar, brown sugar, egg yolks, and vanilla into the cooled butter.
Add the wet mixture into the dry ingredients. Mix until just combined.
Add chocolate chips.
Scoop into large balls of 1 oz each, about 1 tablespoon - about 36 cookies.
Bake for 15 minutes or until golden brown - depending on size of cookies.