Chocolate Chip Cheesecake With Oreo Cookie Crust
tbendel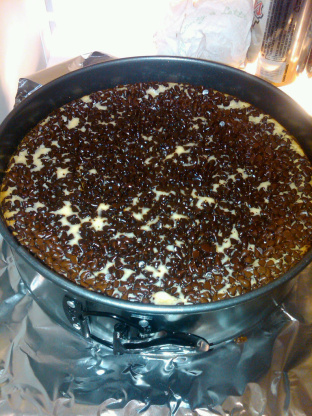 No need to bake it in a water bath, it bakes out beautifully! This can also be baked in a 13 x 9-inch baking pan, but baking times vary slightly, just prepare as stated only bake for 20 minutes in a 300°F oven, remove and cover loosely with foil and return to oven to bake for another 20-30 minutes, if you don't have any mini chocolate chips just use the regular-size, for a less sweeter filling use only 8 tablespoons (1/2 cup sugar) prep time includes chilling time.
CRUST

1 1⁄2 cups crushed Oreo cookies (or use 15 sandwich cookies)
2 1⁄2 tablespoons melted butter

1

(12 ounce) package miniature chocolate chips, divided (or use 2 cups)

FILLING

2

(8 ounce) packages cream cheese, softened

10

tablespoons sugar (1/2 cup plus 2 tablespoons)

3

teaspoons vanilla

2

large eggs

2

tablespoons flour
3⁄4 cup evaporated milk
1⁄2 cup sour cream
Set oven to 300°F.
Prepare an ungreased 9-inch springform baking pan (or you may bake in a 13 x 9-inch baking pan, see heading for baking times).
For the crust; in a bowl mix together crushed cookie crumbs with melted butter until combined; press into the bottom of the springform pan.
Sprinkle 1 cup mini chocolate chips over the crust.
For the filling; in a large bowl using an electric mixer at medium speed beat cream cheese, sugar and vanilla until well combined and smooth.
Add in eggs and flour, then beat until combined.
Add/beat in evaporated milk and sour cream.
Pour the mixture into the pan over the crust.
Sprinkle the top with remaining 1 cup mini chocolate chips.
Bake at 300°F for 25 minutes.
Remove and cover loosely with foil then return to oven to bake an additional 30-40 minutes or until the edges are set but the center still moves slightly (do not over bake!).
IMMEDIATELY place in the refrigerator and chill for a minimum of 5 hours or until firm.
Remove from the springform pan.