Chocolate Chip Cheesecake Muffins
vitalev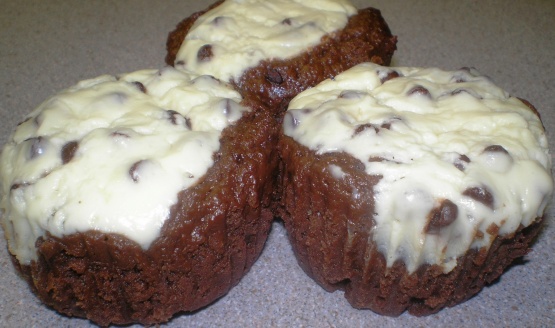 Got this from the Dannon website. Resist the temptation to devour these the first day.. they get better with age (tightly sealed, of course). Topping is a bit tangy, can definitely tell it is yogurt and not cheesecake... I am open to suggestions on how to doctor it up! More sugar maybe, or some vanilla yogurt?

I LOVE these cupcakes! I put them in the refrigerator which really gave the cheesecake great texture. They melt in your mouth. I am making some more today! The Chocolate Chip Cheesecake Muffins are a great alternative to high fat, high calorie desserts. I have already suggested the recipe to friends.
Prepare yogurt cheese: Spoon 1 1/2 cups yogurt into a strainer or sieve lined with cheesecloth or coffee filter. Place a bowl under strainer to catch liquid (whey). Cover and refrigerate 12 hours. Discard liquid.
Preheat oven 350°F.
Prepare topping: In medium bowl, whisk together yogurt cheese, confectioner's sugar and 1 egg until well blended. Stir in chocolate chips. Set aside.
In large bowl, combine flour, granulated sugar, cocoa and coffee granules. In a separate medium bowl, combine remaining 3/4 cup yogurt, oil, remaining egg and vanilla. Mix well. Pour over dry ingredients and mix on low speed in electric mixer until just combined or ingredients are moistened.
Spray 12-cup muffin tin with non-stick cooking spray or line with foil muffin cups. Spoon batter evenly into muffin cups. Make a slight indentation in each. Spoon yogurt mixture over batter, dividing evenly (It makes a tad too much topping -- I just divided it as well as I could and licked/pitched the rest :)).
Bake 20-25 minutes or until toothpick inserted in center comes out clean. Cool on rack for 5 minutes, then remove from tins to completely cool.