Chocolate Chip Cheese Ball
Prep 10 mins
Cook 10 mins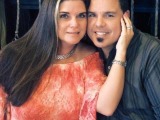 Spread this sweet treat on regular or chocolate graham crackers.
Directions
In a mixing bowl, beat the cream cheese, butter and vanilla until fluffy.
Gradually add sugars; beat just until combined.
Stir in chocolate chips.
Cover and refrigerate for 2 hours.
Place cream cheese mixture on a large piece of plastic wrap; shape into a ball. Refrigerate for at least 1 hour.
Just before serving, roll cheese ball in pecans.
Serve with graham crackers.
Reviews
Most Helpful
Delicous! I couldn't stop eating it! I probably used about 1 cup of mini-chocolate chips. I did not use nuts. I served with Honey Teddy Grahams and Bee-shaped Honey Graham Crackers. I love this size because dipping is so easy and the crackers don't break. Thanks for the idea of forming the ball while the mixture is in plastic wrap. Worked perfectly!

Excellent recipe -the amounts are PERFECT. Thanks for posting this, I plan to use it for a long time!
Made this for thanksgiving lunch and everybody liked it! Thanks for something different and delicious.