Acerast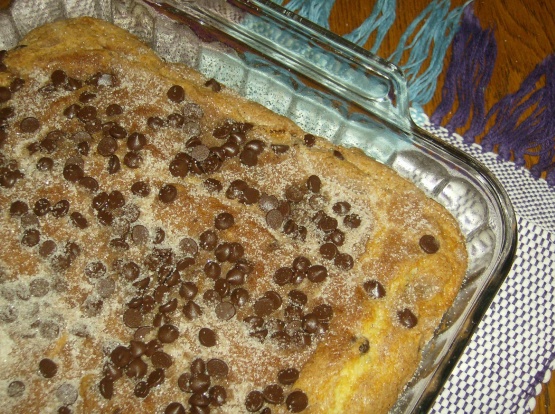 Another favorite from my Mom. A fast and easy dessert that is wonderful served warm! A special after-school snack idea for the kids when they have friends over or a dessert option for a casual evening.

Top Review by katew
So easy and quick - turned out perfectly - consumed rapidly by all - I had no sour cream so used milk and still was a success - will be made regularly from now on.
Combine butter, 1 cup sugar, and eggs in mixing bowl.
Combine dry ingredients and add alternately with sour cream into bowl.
Add vanilla.
Batter will be very thick.
Spread 1/2 of batter into 9X13 pan.
In seperate small bowl combine 1/2 cup sugar and cinnamon.
Add half of cinnamon mixture over top of batter in pan.
Sprinkle 1/2 of chocolate chips over cinnamon mixture.
Add remaining batter over top of chocolate chips.
Add remaining cinnamon sugar and top with remaining chocolate chips and bake in 350 degree oven for 20- 30 minutes.
Serve warm.