Chocolate Chip Butter Cookies
Kim D.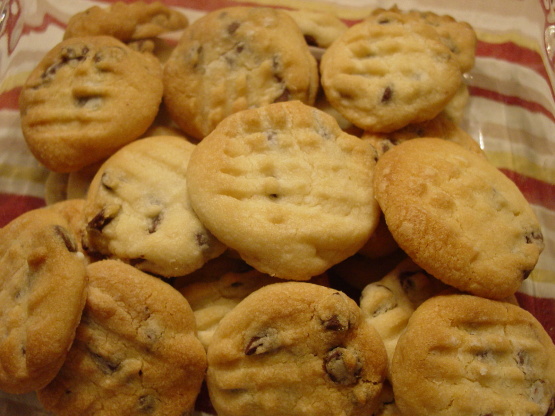 I have a personal list of my top 15 favorite cookie recipes, and this has been Number 1 for years. I cannot remember where I got the recipe from, but it is a good one. I made a platter a few months ago for a friend giving a luncheon at her job, and the cookies were almost gone before people even finished the entrees. People were coming into the room, grabbing handfuls and pocketing them, thinking nobody was watching. I have to admit, I was very flattered! Note: The recipe calls for 4 sticks of butter or margarine. Do not substitute anything else, like oil, or shortening, or applesauce -- it just won't be the same. I use either all butter, or often will use 1/2 butter and 1/2 margarine, with no loss of quality in the results. The recipe halves easily.
always good to have some extra different recipes for c-chip cookies. Thought this was different using pow. sugar, so tried it. Made the dough as directed and thought...where's the liquid???...so I added an egg, and some milk to make it a dough. I made 1/2 batch by the way. They came out awesome. So whoever wrote this recipe must of been enjoying a cocktail or two, omitting the egg and milk.
Preheat oven to 350.
It is not necessary to grease the cookie sheets.
Cream together the butter or margarine with the 2 cups of powdered sugar.
Add the salt, vanilla and 3 1/2 cups flour, and mix until blended; the mixture should be fairly stiff, so add more flour if needed.
Stir in the chocolate chips.
Pinch off pieces of dough, roll into about 3/4" balls (you can make them larger if you prefer), place on the cookie sheets about 2" apart, and flatten with a fork on baking sheet twice for each cookie, making a criss-cross pattern and flattening cooking about halfway.
Bake for 12-15 minutes, or until just very lightly beginning to brown around the edges.
Let the cookies sit on the cookie sheet for about a minute, then remove to a rack and dust lightly with additional powdered sugar.
Dust again when cookies are completely cooled, or store as is, and dust a 2nd time after putting on a platter to serve.
Makes about 64 cookies; recipe halves easily.