Chocolate Chip Bundt Cake With Chocolate Glaze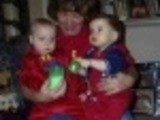 This is another recipe that I have had for many years. Just finished making it again to take to a pot-luck. It is quick to put together because of the mixes. Hope you enjoy! 1/24th of this cake with the glaze would equal 7 Weight Watcher's Power Points - for those of you who track your points.
Directions
Blend the first 6 ingredients.
Fold in the 6 oz chocolate chips.
Pour into a Bundt pan sprayed with Pam.
Bake at 350 degrees for 1 hour.
Glaze: Melt the last 3 ingredients and pour over completely cooled cake.
Most Helpful
I made this cake for my in-laws on Christmas Eve. It was gone in 10 mins!! Everyone had seconds!! Now It's New Years Eve and I made it again! It was very easy to make. And so moist and is very scrumptious!!
Wow! I made this to take to work today. Very moist. Everyone was asking for the recipe. I didn't get but a tiny sliver, but it was awesome!
I made this for our Easter dessert. I made some changes, as I had a similar dessert to this and was looking for that recipe. I decreased the oil to 1/2 cup, didn't use the chocolate pudding mix so decreased water to 1/2 cup, otherwise followed as written. Obvisiouly, my cake was yellow with the chocolate chips, but still had the glaze topping. This was so moist and delicious!!!! For those who aren't a huge fan of too much chocolate, this works for them as well. For the chocolate glaze, I put 2 tablespoons butter then the chips and then the Karo syrup on top into a 1 cup glass measuring cup, microwaved it for 20 seconds on high, stirred and then another 10 seconds on high.Thanks for posting a great recipe Trisha.