Chocolate Chip Bundt Cake
jaunna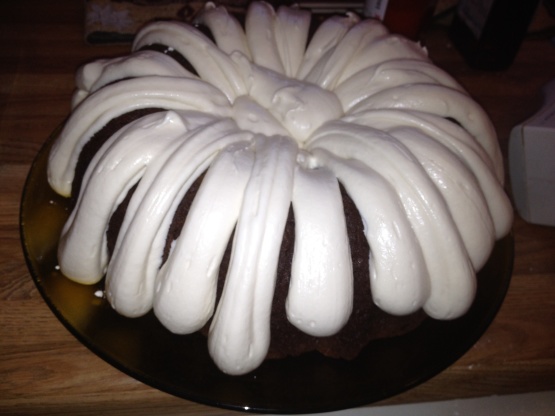 This is one of my all-time favorite recipes, especially nice to prepare for those short notice pot lucks. I try to keep the ingredients on hand, so I can whip one up in no time. The cake is incredibly rich and moist.

I got alot of compliments on this cake when I brought it into work today. I'm glad everyone liked it even though I forgot to add the chocolate chips! I made a batch of recipe #33520 . Spread that on the top of the bundt cake and then drizzled recipe #315210 over it. The peanut butter frosting went really, really well with this cake.
Mix together cake mix, pudding, sour cream, eggs, oil and water until thoroughly blended.
Stir in chocolate chips.
Spoon into a bundt cake pan and bake at 350 degrees for 1 hour.
Cool before removing from the pan.
Sprinkle top of cake with powdered sugar.