Chocolate Chip Blonde Brownies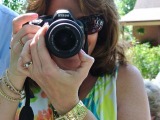 Got this recipe from my sister-in-law many years ago. A great recipe to fall back on when you need a bar cookie in a hurry.
Directions
Melt butter; gently stir in the remaining ingredients, EXCEPT chocolate chips, just until mixed. Do not beat!
Pat into greased 13x9 inch pan. Sprinkle with chocolate chips.
Bake at 350°F for about 20 minutes.
Cool; cut into bars.