Chocolate Chip Blonde Brownies
Prep 15 mins
Cook 20 mins

Got this recipe from my sister-in-law many years ago. A great recipe to fall back on when you need a bar cookie in a hurry.
Directions
Melt butter; gently stir in the remaining ingredients, EXCEPT chocolate chips, just until mixed. Do not beat!
Pat into greased 13x9 inch pan. Sprinkle with chocolate chips.
Bake at 350°F for about 20 minutes.
Cool; cut into bars.
Reviews
Most Helpful
Definitely easy to throw together. I cut the sugar down to 3/4 cup since it was already sweetened with the chocolate chips. Next time I'll try closer to the full amount. It's very much like a chewy chocolate chip cookie. I wasn't horribly impressed, but maybe if I try it with a 8x8 instead of a 7x11 it'll have that "brownie texture".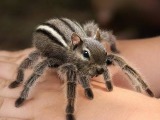 Great!
Very delicious! Made it as directed except I traded 2/3 cup cocoa for the same amount of flour to make it chocolate instead of blonde. Also added an extra teaspoon of vanilla to balance out the cocoa. Came out super moist and chocolatey! Keeping this one.