Chocolate Chip Banana Nut Bread
Anonymous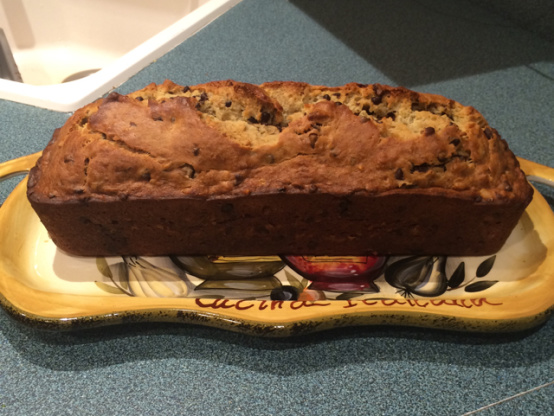 A recipe (originally by Ann Tremont) my mother put in a cookbook that I have modified quite a bit. Every time I bring this to work, everyone wants a piece (and there's not enough to go around).

I made this last night and it is very good banana bread! This makes a large loaf that bakes up high to a rich golden brown. Perfect!! It took mine about 65-70 minutes. I let it cool for about 1/2 hour before slicing into it and it was so good still warm and fresh from the oven. I refrigerated it overnight and had another piece of it today and it's just as good the next day. I think 1/2 cup of sugar is plenty. I may even cut it down slighty next time because between the choc. chips and the banana it's plenty sweet for my tastes. Delicious! I will definately make this one again. Thank's for sharing!!
Hand mix flour, baking powder, baking soda, sugar, walnuts, chocolate chips, and vanilla extract in mixing bowl until chocolate chips and walnuts are evenly spread out throughout mixture.
In another bowl, mash bananas and add to the main mixing bowl.
Soften the butter (I microwave for 20 seconds) and add to the main mixing bowl.
Add two whole eggs to main mixing bowl.
Mix all ingredients together by hand until it has a batter-like consistency.
Pour into greased loaf pan.
Let mixture set for at least 20 minutes before baking (Preheat the oven to 325°F).
Bake at 325°F for 65 minutes (may take longer depending on the oven and altitude).
When finished baking, it is best to let it set overnight before serving.
---.
An optional recipe: Instead of the chocolate chips, use 1 1/2 tsp of cinnamon to make Cinnamon Banana Nut Bread.