Chocolate Chip Banana Muffins
Redsie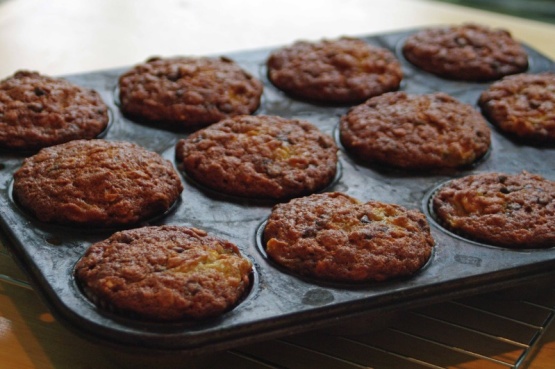 Recipe by Kat
Mmmmm... tasty, especially right out of the oven!
Very, very good. I didn't have enough chocolate chips, so I added some mini M&Ms. They went really quick. I liked this because the banana flavor wasn't too overpowering, just a good way to use up the last couple bananas no one wants.
Preheat oven to 350F degrees.
In a large bowl, cream margarine, vanilla, and sugar until fluffy.
Beat in eggs one at a time.
In another bowl, sift together flour, oats, salt, and baking soda.
Add dry ingredients alternately with mashed banana to the creamed mixture.
Do not overmix.
Fold in chocolate chips.
Spoon batter into well greased muffin tins and bake for approxamitely 25 minutes.