Chocolate Chip Banana Cake
Keren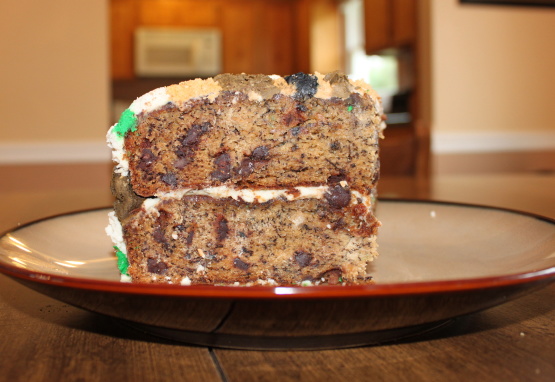 This is a real "kid pleaser" from Woman's World magazine several years back.

Yesterday when I found this recipe, I was wondering why there are twelve reviews and NO PICTURES. Now I know why - once baked, this cake doesn't last long enough to snap a photo! I was really wary of creating a totally pareve banana cake - no butter, no sour cream. I usually substitute tofutti sour cream in a regular cake, but didn't have any this week, so I made this recipe instead. It was PERFECT! Nobody even noticed the switch. I made it with my usual topping - chocolate chips, cinnamon and brown sugar: pour just under half the cake batter into the pan and spread it out, sprinkle with half the chip mixture, then spread the remaining cake batter over and sprinkle the rest of the chocolate chip mixture. It is now GONE, so like everybody else, I cannot submit a picture of it ... maybe next time!
Preheat oven to 350 F.
Coat 9" square pan with cooking spray; flour lightly.
Combine flour,sugar,soda and salt.
In a second bowl mash bananas; stir in oil and eggs until just combined.
Mix dry ingredients into banana mixture.
Stir in chips.
Pour batter into pan.
Bake 40 minutes or until toothpick inserted into center comes out clean.