Chocolate Chimichangas With Ice Cream
loof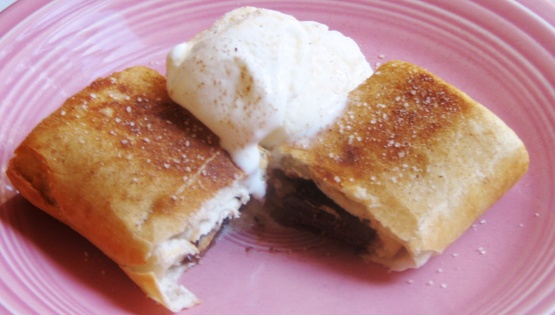 Imagine a a flour tortilla wrapped around your favorite chocolate bar then deep fried to a golden crisp and served with vanilla ice cream, chocolate syrup and garnished with chocolate shavings and a falling of cinnamon. :)

Very much reminded me of a nice dessert at one of the Mexican restaurant here..I did pan fry these and used Hersheys Milk chocolate. Both are great, yet these were cheaper to make. Don't go out much now due to the economy. Great dessert that we enjoyed. Made for PRMR tag..
Place 1 candy bar just below center of 1 tortilla. Fold bottom of tortilla up and over candy bar just until partially covered.
Fold left and right sides of tortilla over; roll up, and place, seam side down, on a baking sheet. Repeat procedure with remaining candy bars and tortillas. Freeze 20 minutes.
Pour oil to depth of 1 inch into a large skillet; heat to 375 degrees. Place 2 tortillas, seam sides down, in hot oil, gently pressing with tongs for a few seconds to seal. Fry tortillas 2 to 3 minutes on each side or until golden brown. Drain on paper towels.