Bev I Am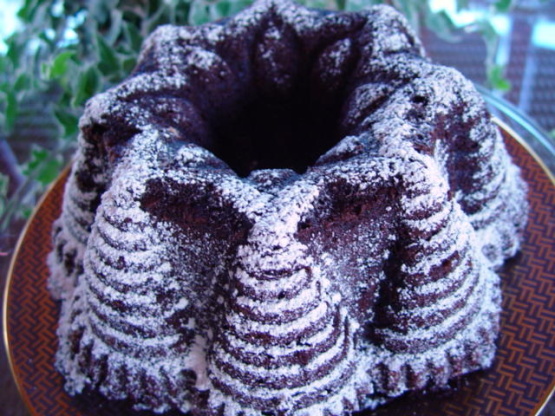 This cake is from a wonderful pastry chef, Mary Bergin. It's very simple, and it's simply the finest chocolate cake anywhere. When I make chocolate cake, this is the recipe I use. I may vary the accompaniments, but the cake is the same.

This cake pleased everyone -- even the fussiest cake eaters. Rich chocolate flavor, perfect texture, great presentation, perfect for folks who don't like frosting (yes, there are some people like that). Definitely a keeper.
Preheat oven to 350°.
Lightly grease a 10" bundt pan.
Sift together the 1 cup sugar, cake flour, cocoa, baking powder, baking soda and salt twice.
In a separate bowl, mix the yolks, oil, water and vanilla.
Mix the wet ingredients into the dry ingredients.
In the bowl of your mixer, whip the whites to soft peaks, then slowly add the last 1/2 cup sugar and whip to stiff peaks.
Mix 1/3 of the whites into the chocolate base to lighten, the fold the remaining whites in gently until thoroughly incorporated.
Pour the batter into the prepared pan and bake for about 30 minutes, or until the cake JUST begins to come away from the sides.
Immediately remove from the oven and let cool, then turn out onto a plate.
Notes: This cake needs no icing.
I like to fill the center with lightly sweetened whipped cream and raspberries, OR, sift a little powdered sugar over top, slice and serve with whipped cream and hot fudge sauce, or whatever you can dream up.