flower7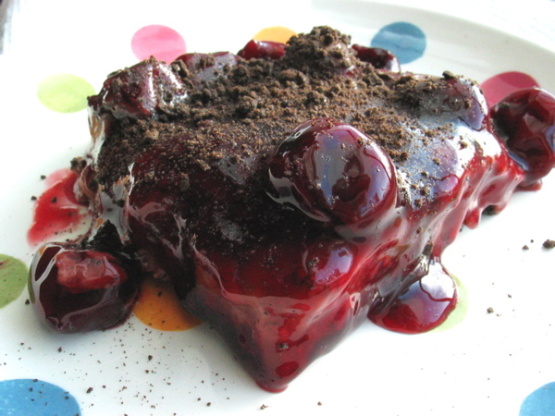 This is an easy yummy recipe I got out of a Better Homes and Gardens Kid's Cookbook when I was little. The combo of chocolate and cherries is a winner! A great recipe for kids to help with. *Time doesn't include chilling time*

This is very tasty! I would have never thought of using sour cream to make pudding / pie filling but it works! I couldn't locate choc. wafers but found some Newman's Own choc. cookies that worked perfectly (though I had to guess at an amount to use because they were small - I ended up using about 45). To reduce the fat, I used skim milk and light sour cream. I also used dark cherry pie filling. For presentation purposes, next time I might try to drain some of the "gloop" off of the cherries in the pie filling, since it is a bit messy to dish out. Otherwise, I loved it! Thanks so much for the recipe!
Crush up the chocolate wafers a few at a time in a big zip lock bag. **(all areas may not have chocolate wafers, it is a cookie like Oreos but without the cream, not a sandwich cookie)**.
Put the crushed wafers cookies into an 8x8x2 inch pan, reserving 2 tablespoons of the crumbs for later.
Pour the melted butter over the cookie crumbs in the pan and stir together with a fork.
With your hands spread the mixture evenly over the inside bottom of the pan, and press firmly to form a crust.
Refrigerate the crust for 30 minutes or until firm.
Put the sour cream, milk, and the dry pudding mix into a big bowl, and with an electric mixer beat on low for about a minute, until smooth (then be sure to scrape down the sides of the bowl and mix again for about 30 seconds).
Spread the pudding mixture evenly over the wafer crust.
Carefully spoon the cherry pie filling evenly over the pudding mixture, and then sprinkle the reserved 2 tablespoons cookie crumbs on top.
Cover with clear plastic wrap and refrigerate for 3 hours or more until cold.
Cut up and enjoy!