Pamela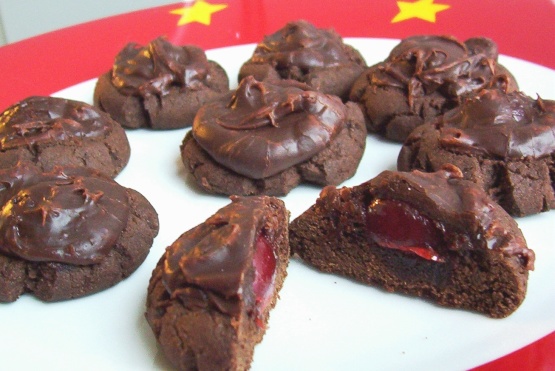 A hidden cherry under the chocolate makes a sweet surprise when you bite into these wonderful chocolate cookies.

A very close family friend shared this recipe with me a few years ago. I include these in my gift boxes of "goodies" that I give at Christmas. They are a delicious, soft and fudgy cookie with a delightful cherry inside. If you are a cherry fan I think you will be pleased with this one.
Combine flour and cocoa; set aside.
Beat butter in a med bowl on med speed until softened.
Add sugar, baking soda, baking powder and salt.
Beat until well mixed.
Beat in egg and vanilla, scraping the side of the bowl.
Gradually beat in flour mixture.
Shape dough into 1-inch balls.
Place 2-inches apart on an ungreased cooking sheet.
Press down the centers with your thumb.
Drain cherries, reserving juice.
Place a cherry in the center of each cookie in the depression you made with your thumb.
Combine chocolate pieces and condensed milk in a small saucepan.
Cook and stir over low heat until the chocolate is melted.
Stir in 4 teaspoons of the reserved cherry juice.
Spoon about 1 teaspoon of the chocolate and milk mixture over each cherry, spreading to cover cherry.
If the frosting is too thick, thin with additional cherry juice.
Bake in a 350°F oven for about 10 minutes or until edges of cookie is firm.
Cool on cookie sheet for 1 minute.
Transfer to a wire rack to finish cooling.