Chocolate-Cherry Biscotti
Annacia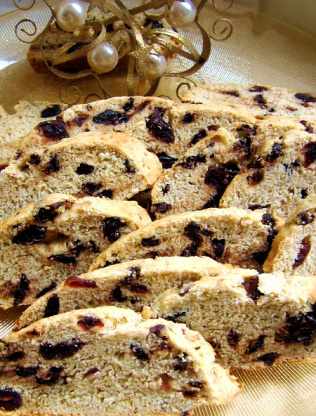 Biscotti are a wonderful treat. Not a sweet as a more traditional cookie, they work well as a midafternoon snack along with a cup of tea or coffee or as a light ending to a great supper. In addition, these double baked cookies are easy to prepare and store rather well. In this recipe the delightful flavors of chocolate and cherry are paired together. Found this on the Internet and storing it (with my inteneded tweaking) for safe keeping.

These are great. I made them exactly as written (I usually use splenda, but it's Christmas so I splurged :) )I love the combination of cherry and chocolate, and may try some cherry extract instead of almond next time. Thanks for posting, Toni!
Preheat oven to 350°.
Lightly spoon flours into dry measuring cups, and level with a knife. Combine flours and salt in a bowl; stir well with a whisk.
Beat sugar and eggs with a mixer at high speed until thick and pale (about 4 minutes). Add oil and extracts, beating until well-blended. Add flour mixture, beating at low speed just until blended. Stir in cherries and chocolate chips.
Divide dough in half; turn out onto a baking sheet coated with cooking spray. Shape each portion into a 10-inch-long roll, and flatten to 1-inch thickness. Bake at 350° for 25 minutes or until lightly browned. Remove rolls from the baking sheet; cool 10 minutes on a wire rack. Reduce oven temperature to 325°.
Cut each roll diagonally into 20 (1/2-inch) slices. Place slices, cut sides down, on baking sheet. Bake at 325° for 10 minutes. Turn cookies over, and bake an additional 10 minutes (cookies will be slightly soft in center but will harden as they cool). Remove from baking sheet; cool completely on wire rack.