Chocolate Cheesecake Slice
Tisme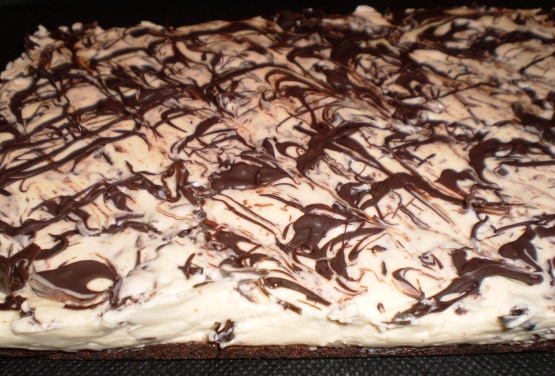 DM and I fought over who was going to post this recipe on here!! But of course I won!! I remember my mum making this during the day while I was at primary school. My brother, DD, and I loved this recipe and pleaded for DM to make it again and again!!

Top Review by Tisme
Well P.W.K. What can I say! I used a little but more gelatine to make the it set a bit firmer, and it turned out a treat. You have to work fast with the chocolate on the top at it sets quickly and turns hard and into chunks. So to avoid this I poured the chocolate on in sections and quickly swirled it, then moved on to the next section this avoids the chocolate hardening to quickly and getting chunks. Great recipe and very very yummy!
Mix biscuit crumbs and butter in a bowl until combined. Press firmly into a foil lined 18 x 28cm slab tin. Refrigerate until required.
Prepare filling using an electric mixer, beat cheese until creamy. Gradually add condensed milk, beating constantly. Beat in lemon juice, scraping down mixture from sides of bowl as you beat, until thickened.
Whisk gelatin into water with a fork until dissolved. Allow to cool slightly. Beat gelatin mixture into the cream cheese muxture. Fold in cream. Pour over prepared base.
Pour melted melts evenly over filling. Using the point of a knife, swirl melts through the filling.
Refrigerate until firm. Cut into squares to serve. Store in refrigerator.