Chocolate Cheesecake Muffins
CoCaShe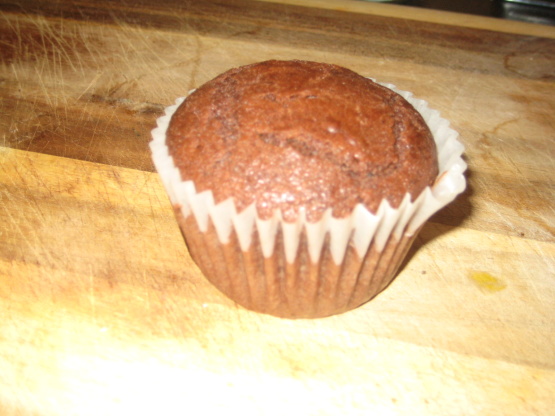 A Canadian friend gave me this recipe a few years ago...if you like chocolate and cheesecakes, this ones for you.

Chocolate and cream cheese- in other words, heaven in a muffin! These smelled incredible while baking, and were very good straight out of the oven. They were even better after spending a bit of time in the fridge. I added a little white icing on top and took 'em into work- gone in minutes. Thanks for a great recipe! (hint- don't overmix! I overzealously used my KitchenAide, and these came out a little dry. Hand mix just until moistened!!)
In a small bowl, beat cream cheese and 2 Tbsp sugar until light and fluffy.
Set aside.
In a large bowl, stir together flour,1/2 cup sugar, cocoa, baking powder and salt.
Make a well in centre of dry ingredients.
Combine egg, milk and oil.
Add all at once to dry ingredients stirring just until moistened.
(batter should be lumpy) Spoon about 2 Tbsp of batter into each greased muffin tray.
Drop 1 tsp of cream cheese mixture on top and then more of the chocolate batter.
Bake 375F degrees for 20 minutes.