truebrit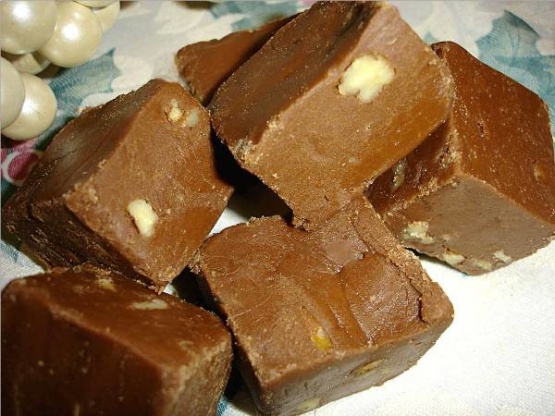 I never thought something so weird sounding could be so good! From Paula Deen.

You don't have to cook this. Leave the butter and cheese out until room temperature. Put everything in a bowl, mix it with your hands until well combined and press into your pan. I also use half confectioner's sugar and half dry milk. It cuts down on the calories and not so sweet. I have made it this way for 40 years and got the recipe from my mom who made it years before that. It's a family favorite and given as gifts a lot. Our favorite by far. (Don't be afraid to double the recipe. It works up great. If you have a mixer with a bread hook you can also do it that way.)
Spray lightly the bottom of a 9 by 2-inch square pan with a nonstick spray.
In a saucepan over medium heat, melt the cheese and butter together, stirring constantly until smooth.
Remove from the heat and add the vanilla and nuts.
In a large bowl sift together the sugar and cocoa.
Pour the cheese mixture into the sugar and cocoa mixture and stir until completely mixed.
The candy will be very stiff.
Using your hands, remove candy from bowl and press evenly and firmly into pan.
Because of the amount of butter in this recipe, pat the top of the candy with a paper towel to remove the excess oil.
Place pan in refrigerator until candy is firm.
To serve candy, cut into squares.
Enjoy!