twissis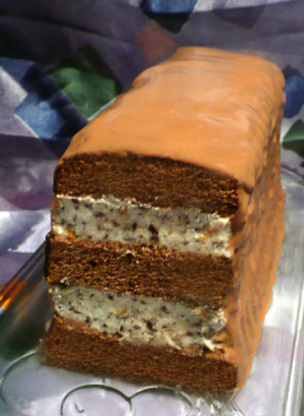 Chocolate and orange - some of my favorite flavors. Use a yellow pound cake if you can't find a ready made chocolate one. Or make one from the many recipes here on Zaar.

Icelanders like a combo of choc & orange. Cognac & Grand Mariner are favored after-dinner drinks & *Konfect* often eaten w/the Grand Marnier (Icelandic Russel Stover wannabe, but better). I made this crowd-pleaser dessert for a dinner party we attended Sat nite. I used a pre-made choc pound cake (smaller than the std pound cake) & prob could have made just half the filling. I applied the Grand Marnier w/a soft pastry brush to the cake layers & chilled ea layer as I assembled it. My frosting did not get firm, but I cannot recall ever having made a cooked frosting b4 & am sure I messed it up (not a fault of the recipe). I fixed it by adding cream cheese & powd sugar till I had a good spreading consistency. Thx for sharing the recipe for this decadent dessert w/us. Yum!
Frosting

4

ounces semisweet chocolate, chopped (scant 1 cup)

6

ounces unsalted butter, room temperature
1⁄2 cup brewed espresso (or 1 tablespoon instant espresso powder dissolved in 1/2 cup boiling water)

Cake

2

cups ricotta cheese
1⁄4 cup confectioners' sugar

1

tablespoon orange zest

3

ounces chocolate (sweet, semi-sweet, bittersweet or milk chocolate, in one chunk)

1

chocolate pound cake (store-bought or homemade)

4

tablespoons orange liqueur (like Grand Marnier, Cointreau, etc.)
Frosting: Place chocolate, butter and espresso in a small heatproof bowl or the top of a double boiler. Set over gently simmering water, with the bottom not the touching water. Stir until melted, smooth and combined.
Remove from heat and refrigerate until firm, stirring every 15 minutes, about 1 hour.
Filling: In a bowl, stir together the ricotta, sugar and orange zest. Using a grater, grate the chocolate chunk into the bowl and fold into the ricotta.
Assembly: Using a serrated knife, slice the pound cake horizontally to form 3 equal layers. Place 1 layer on a flat plate and sprinkle with 2 tablespoons orange liqueur. Spread 1/2 of the ricotta mixture on top.
Top with second layer layer, sprinkle with remaining orange liqueur and spread with the rest of the ricotta. Place 3rd cake layer on top.
Using a narrow spatula, frost top and sides with the cooled chocolate mixture.
Refrigerate until serving time but no longer than 8 hours.