Chocolate Carrot Cupcakes With Chocolate Cream Cheese Icing
Redsie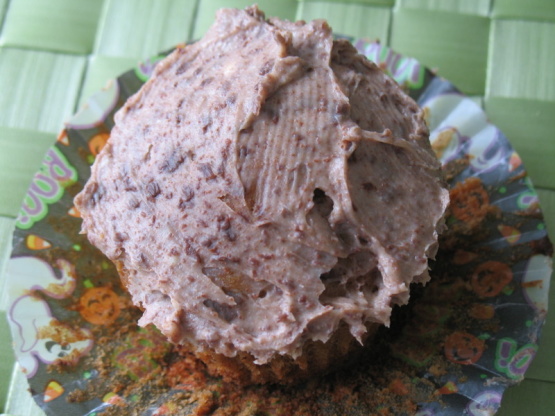 From the Hershey website. They smell divine and taste even better! I baked them for a Halloween party! You can add 1/2 cup chopped walnuts with the grated carrots if you so desire!

Superb moist cupcakes. I used zuccini and carrots - half and half, instead of only carrots, as didn't have enough carrots and these cupcakes still managed to taste very nice. My cupcakes rose quite a bit, doubled in size. I also used wholemeal and plain white flour in equal proportions to make it healthier, oh... and added some extra cocoa powder to the flour mix, but that's just me, tweaking everything. Enjoy!
In medium bowl, mix together flour, baking powder, cinnamon, baking soda, allspice and nutmeg.
In large bowl, with electric mixer, beat eggs and sugar. Beat in chocolate, oil and vanilla. Stir in dry ingredients and milk.
Stir in carrots. Spoon batter into greased or paper lined muffin tins. Bake in 375ºF (190ºC) oven 18 to 20 minutes or until tester comes out clean. Remove from muffin tins; cool completely. Spread with Chocolate Cream Cheese Icing.
In medium bowl, blend together cream cheese and sugar. Blend in chocolate and vanilla. Stir in cream until smooth and creamy.