Chocolate Caramel Rolo Cookies
-Sylvie-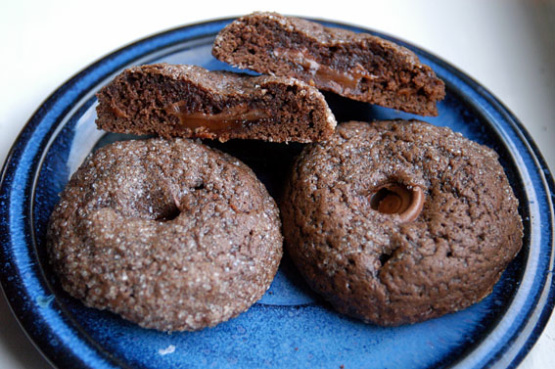 My mother-in-law first introduced me to these wonderful cookies! If you like chocolate and caramel, then you will love these tasty treats!

I made these cookies with Pamela's All purpose gluten free flour. Out of 45 cookies baked on Friday, I have exactly 4 left on Tuesday. These are the most delicious cookies made with gluten free flour I have tasted yet. My family loved them as did my co-workers.
Preheat oven to 375 degrees.
In a large mixing bowl, add Sugar, Brown Sugar, Margarine, Eggs and Vanilla.
Mix together until well blended.
Add Flour, Cocoa and Baking Soda and mix well.
Refrigerate and chill dough for 30 minutes.
Roll dough into 1 inch balls and place 1 Rolo in the center of each dough ball.
Form the dough ball around the majority of the rolo.
Roll each dough ball in sugar.
Place on ungreased cookie sheet and bake for 7-10 minutes.
Let cool on pan for 1 minute then take off and place on cookie cooling rack.