Chocolate Candied Oranges for Mary
Bel_Fran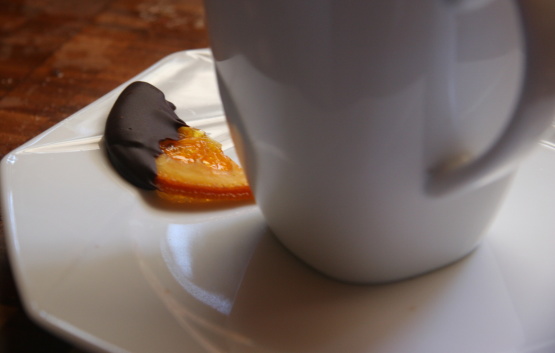 This is adapted from Candied Orange Slices Dipped in Chocolate. They are a huge favorite of the office staff at my Christmas party. I shared the original recipe with them but some were intimidated by the directions. So here's the recipe for Mary.
Wash the oranges, then cut them in half from stem to stern. (Do not peel!). Slice each half in 1/4 inch slices, discarding ends.
In a medium saucepan, mix sugar and water. Heat sugar mixture over medium heat, bring sugar mixture to a boil.
Add orange slices and carefully dunk them with a wooden spoon. (Do not stir!).
Reduce heat and simmer for 1 hour. Carefully dunk the floating slices occasionally.
Remove from heat and let cool to room temperature.
Remove slices from pan and place on rack over a cookie pan.
Turn oven on to warm, place oranges on middle rack, leave the oven door slightly open and leave them for several hours or overnight.
Toss the dried slices in sugar.
Pour chocolate chips in a microwave proof bowl and microwave on high for 1 minute Stir chips and return to the microwave for another 30 seconds. Repeat until all the chips are smoothly melted.
Dip the slices in the chocolate and place them on waxed paper to dry.