Becca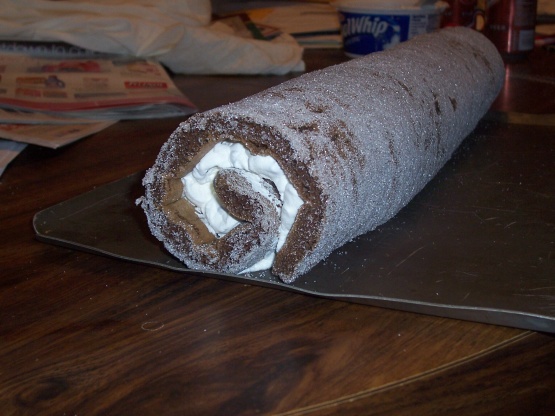 This is a delicious soft sponge-cake recipe. It received a Reserve Champion ribbon at my county fair. It is much healthier than regular cakes.

This was perfect in every way. The directions were clear, the cake was easy to roll and fill, and it tasted great. I sprinkled the towel with confectioner's sugar instead of granulated as another reviewer suggested. I filled the cake with real whipped cream and frosted it with a chocolate buttercream frosting. Everyone enjoyed it tremendously. Thank you.
Preheat oven to 350°F.
Line a 15x10-inch jelly roll pan with waxed paper. Grease and flour lined pan; tap out excess.
In a medium bowl, combine flour, cocoa powder, cornstarch, baking soda, baking powder, and salt. Mix well.
In a separate bowl, using an electric mixer, beat egg yolks and 1/4 cup sugar until fluffy. In a small bowl, using CLEAN beaters, beat egg whites on high until foamy. Gradually add 1/2 cup sugar, beating until stiff, but not dry, peaks form.
Fold 1/3 beaten egg whites into egg yolk mixture. Alternately fold in remaining whites and flour mixture.
Pour batter into pan; smooth top. Bake until a toothpick inserted in center comes out clean, about 14 minutes.
Dust a clean cloth with remaining sugar.
Turn cake out onto prepared cloth; remove waxed paper. Trim cake's edges.
Starting with a long side, tightly roll up cake WITH CLOTH!
Transfer cake, seam-side down, to a wire rack to cool. Unroll cake; remove cloth.
Mix whipped topping and chocolate chips together and spread over cake to within 1/2 inch of edges.
Re-roll cake; place seam-side down on a plate. Refrigerate.