Chocolate Cake No Eggs or Butter
Haura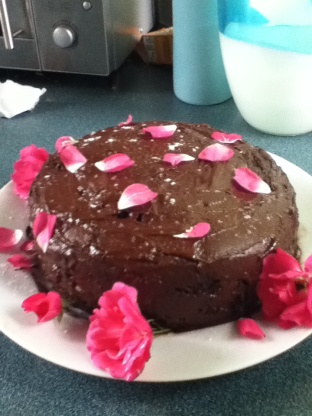 This cake can be mixed in the container it is going to be baked in for example a roasting pan or a round deep cake tin. There is no need to grease it. This makes a lovely moist chocolate cake and a good size too perfect as a birthday cake. My cousin used to make this cake all the time. She gave me the recipe years ago. It is a favorite. The only difference is her recipe specifically says cold water, so I use water from the fridge. It tastes great cold so I store it in thw fridge and I do not frost it. Once in a while I will put a very thin layer of homemade chocolate frosting on it, but ut us not necessary. This bakes well as cupcakes, also. I have baked cup cakes and set them on a cookie sheet and into the freezer to feeeze. Then I put them into a ziploc freezer bag abd freeze. They freeze and thaw beautifully. I freeze on a cookie sheet first so they don't freeze together where they touch in the freezer bag. I make it for our family picnics every year now. We call it, "Elsie's Chocolate Cake", after our deceased cousin.
Mix dry ingredients throughly.
Add liquids and mix well with a fork.
Bake at 180 Celcius for 1 1/4 hours. or until cooked when tested with a knife.
The cake can be iced or left plain.
It makes a nice dessert with cream or custard.