Chocolate Cake Mix Cheesecake
dalamy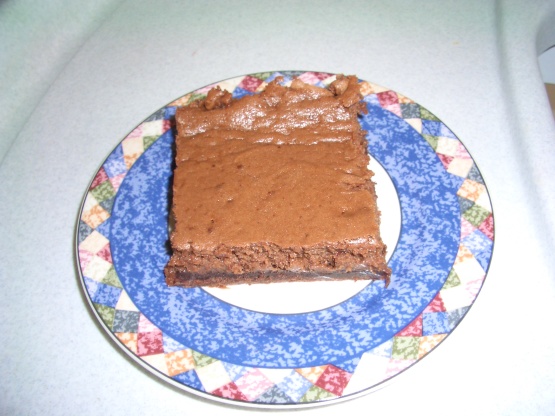 This is an ultra rich, creamy, and delectable cheesecake! The flavor of the cheesecake improves the longer it is refrigerated. It actually tastes better served 1 to 2 days later as the crust softens. It keeps up to one week, so it is great to make ahead for special occasions. It can also be frozen with a covering of foil.

Very chocolatey! I made this 2 days in advance of bringing to a pot luck. It was delicious. Excellent directions. Suggestions for next time: It was difficult to remove the pieces from the pan. I would try spraying the pan with non-stick spray, lining it with foil, leaving enough of an overhang on each side to create handles, then spraying the foil with non-stick spray. After refrigerating, pull the cheesecake out of the pan by the foil handles and cut into pieces. Topping each piece with whipped cream would be wonderful.
6

tablespoons semi-sweet chocolate chips

6

tablespoons milk chocolate chips

4

tablespoons butter
18 1⁄4 ounces moist deluxe devil's food cake mix (or dark chocolate fudge or French Vanilla-White-Yellow cake mix and 3/4 cup chopped white chocolate)

1

egg

3

tablespoons butter

8

ounces cream cheese, softened to room temperature
2⁄3 cup sugar

1

teaspoon pure vanilla extract
1⁄4 teaspoon salt

8

ounces sour cream, room temperature

3

eggs, room temperature
Set 13 x 9 pan in a 15 x 10 pan and carefully pour in enough water to reach halfway up the sides of the 13 x 9 pan. Remove 13 x 9 pan and carefully place 15 x 10 pan in oven. Preheat oven to 325 degrees.
In a small mixing bowl, melt ½ cup semisweet chocolate and ½ cup milk chocolate chips with 4 tablespoons butter in microwave. Set aside to cool to room temperature.
Measure and set aside 1 cup of the dry cake mix to use in the cheesecake filling.
Coat 13x9 pan with cooking spray. Line with parchment paper and coat again with cooking spray. In a large mixing bowl, melt 3 tablespoons butter in microwave. Mix in remaining cake mix and 1 egg with a fork. Press the crumbly mixture into the bottom of the 13 x 9 baking pan.
In the same large mixing bowl, blend cream cheese, sugar, vanilla, and salt thoroughly. Beat in sour cream and melted chocolate until smooth. Beat in reserved cake mix until well blended. Scrape down sides and add eggs 1 at a time, beating on low after each addition just until incorporated.
Spread filling evenly over crust. Use oven mitts to carefully place 13 x 9 pan in 15 x 10 pan already in oven. Bake for 55 minutes, or until center still jiggles slightly. The cheesecake firms up as it cools.
Remove from oven and immediately run a sharp paring knife around the edges of the pan to separate the cheesecake from the sides of the pan. Let cheesecake cool in water bath on a wire rack for 15 minutes. Then remove 13 x 9 pan to wire rack to cool completely. Loosely cover cheesecake and refrigerate overnight.
To serve, let cheesecake stand at room temperature for 20 minutes for the best flavor.