lazyme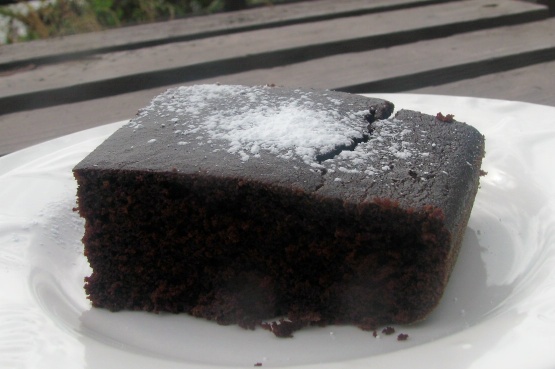 I'm not a great baker, but I have never had a flop with this cake. it is simple to prepare, yet rich, moist and dense, always enjoyed. From Readers Digest : Quick And Thrifty Cooking

My voracious dessert eaters kept asking when they could eat this yummy cake. I had to make them wait 30 minutes after it came out of the oven so they wouldn't burn themselves. lol The smell while it was baking was heavenly! I didn't realize this until I was making it - but there are no eggs in this! I was very surprised in a good way at how high it rose and how light and fluffy and moist. I doubled the recipe for a 9x13 pan. I also omitted the powdered sugar on top as we had this with ice cream. Since I doubled the recipe - I used 1/2 cup applesauce and 1/2 cup vegetable oil as I don't have sunflower oil or access to it anywhere. A wonderful recipe and one I will be adding to my recipe files! Made for the May 2009 Aussie/NZ recipe swap.
Preheat the oven to 190 C / 375°F.
Grease and flour a 20 cm cake tin.
Combine the flour, sugar, cocoa powder, bicarbonate of soda and salt.
Make a well in the centre of the mixture, and add the vanilla essence, vinegar and oil, then gradually stir in the water.
Continue stirring until thoroughly blended, but do not over-mix.
Pour all of the batter into the cake tin, and bake, uncovered, for 35 to 40 minutes, or until a toothpick inserted into the centre of the cake, comes out clean.
Do not over bake, the secret to this cake is its moistness.
Cool in the tin on a wire rack for 10 minutes, then transfer the cake from the tin to the rack, to cool completely.
Sift the icing sugar over the top, and serve.