Chocolate Cake Caramel Bars
BarbryT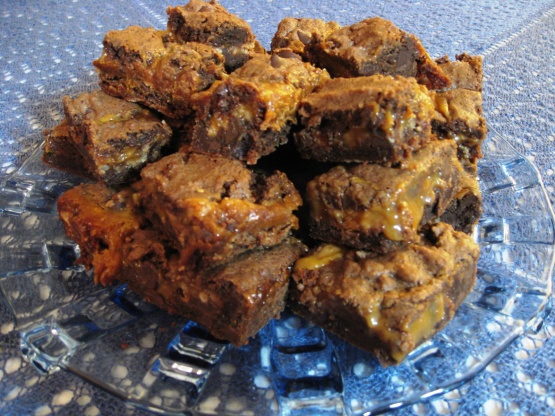 An oooey-gooey treat, great on a winter's day.

These are "ohmigawd good" ! The staff at work demolished the whole recipe in about an hour. My one quibble is that the point to add the semi-sweet chocolate chips isn't clear. I did as the recipe directed and mixed the cake mix, butter, milk and chocolate chips, poured half into the baking pan and cooked it for six minutes ... then was told to spread the choc chips over the cake. Sooooooo, I didn't have any more chocolate chips but I did have a 12 oz. bag of chocolate toffee bits (Heath bar bits, for the U.S. audience) so I spread them over the first layer of cake. Finished as directed. It IS ooey gooey and altogether fabulous. I'd give it 20 stars for taste.
50

caramels, unwrapped
1⁄3 cup evaporated milk

1

(18 ounce) box German chocolate cake mix
3⁄4 cup butter, melted
1⁄3 cup evaporated milk

1

(12 ounce) package semi-sweet chocolate chips
Melt first 2 ingredients together over low heat.
In separate bowl, combine cake mix, butter, and evaporated milk. Do NOT mix the chocolate chips into mixture.
Put half of cake mixture in a greased & floured 9x13 pan. Bake 6 minutes at 350 degrees. Sprinkle chocolate chips over cake mixture (DO NOT MIX INTO CAKE BATTER). Pour caramel mixture over chocolate chips. Pour remaining cake mix on top, dropping mix by spoonfuls.
Bake at 350 degrees for 18 minutes, cool 20 minutes, cut into bars.