Chocolate Bundt Cake With Peppermint Glaze
Ryan F.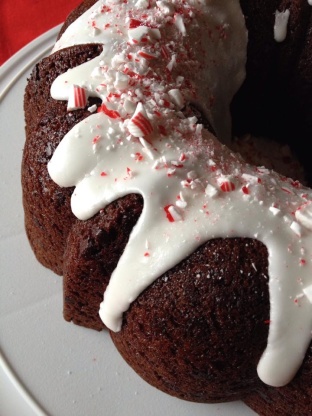 I love making this just when the Christmas season starts - it totally gets me in the spirit of the holidays! (This actually tastes better the next day, in my opinion)
Preheat oven to 350 degrees (175 degrees C).
Grease and flour a Bundt pan- mix the cocoa with the flour so it doesn't leave a white coating on the cake.
Combine cake mix, pudding mix, oil, eggs, water, sour cream, and vanilla.
Beat until smooth.
Stir in chocolate chips by hand.
Pour batter into prepared pan.
Bake for 1 hour- but check it after 55 minutes just in case.
Allow to cool.
In a medium bowl, mix powdered sugar with peppermint extract (to taste- adjust as necessary), then mix a few drops of hot water.
Stir stir stir.
If it's too thick, add another couple drops of water.
Drizzle over turned out cake.
Sprinkle with crushed candy canes, if you got`em.