Chocolate Bread Pudding With Pecan Streusel Topping
2Bleu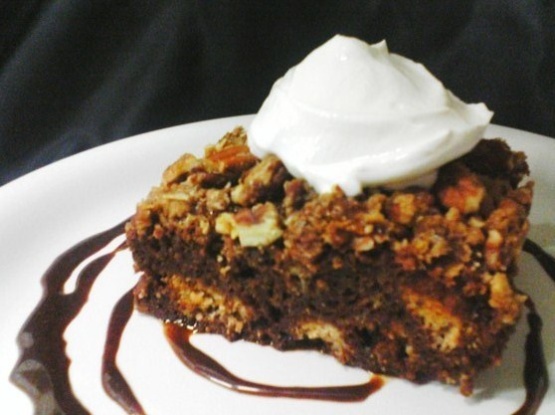 Yummy! Yummy! Yummy! I got this from an old magazine clipping of unknown origin. Very rich and dense but oh so yummy!

Since I was letting my other half take this to an AA meeting, I did a little juggling & ended up substituting 2 tablespoons AND 2 teaspoons of chocolate extract for the Kahlua in the sauce, but otherwise followed the recipe ingredient by ingredient & step by step! The result was a very wonderful tasting chocolate fix, without the joy (for AA members, at least!) of the Kahlua! Was glad I kept a piece for myself, since there was nothing left after the meeting! This is one of the nicest bread puddings I've ever made! Thanks for sharing the recipe! [Tagged, made & reviewed in Please Review My Recipe cooking game]
Pecan Streusel

1

cup pecan halves, toasted and coarsely chopped
1⁄4 cup brown sugar, firmly packed
1⁄4 cup flour

1

teaspoon cinnamon
1⁄4 teaspoon salt
1 1⁄2 ounces unsalted butter, cut into tiny bits

Bread Pudding

4

ounces unsweetened chocolate
3⁄4 cup brown sugar, firmly packed
1 1⁄2 cups cream

6

eggs

2

egg yolks
3⁄4 cup sugar

1

teaspoon vanilla

1

loaf French bread, stale and cut into 1 inch cubes

Kahlua Sauce

1⁄3 cup unsalted butter, cut into 6 pieces

1

cup Kahlua
1⁄2 cup sugar

1

egg, lightly beaten
3⁄4 cup whipping cream, whipped to soft peaks, for garnish
In a medium bowl, combine all the ingredients for the pecan streusel and toss together with your fingertips until crumbly and evenly blended. Refrigerate until needed.
Butter an 9x13 glass loaf pan and dredge it with sugar.
In the top of a double boiler, melt chocolate over simmering water. Add the brown sugar and cream, whisk until smooth and remove from heat. Cool for 10 minutes.
Preheat the oven to 325 degrees. In a very large bowl, whisk together thoroughly the eggs, egg yolks, sugar, and vanilla.
Stir 1/4 cup of this custard mixture into the chocolate to temper it, then add all of the chocolate mixture back into the custard.
Add the bread cubes to the bowl, toss until they are evenly coated, and let sit in the refrigerator for 20 minutes. Pour into prepared loaf pan and place in a larger pan.
Fill the larger pan with boiling water to come halfway up the sides of the loaf pan. Top with pecan streusel and bake for about 2 hours, until center feels slightly firm.
While cooking, make the Kahlua sauce: In the top of a double boiler, melt the butter and then add the Kahlua and sugar. Whisk until sugar is dissolved.
Whisk 1 tablespoon of the Kahlua mixture into the egg to temper it, then return the whole mixture to the double boiler and cook, stirring constantly, over simmering water until slightly thickened. Strain into a warmed pitcher and cover with foil to keep warm.
Slice the warm pudding and serve with a pool of the warm Kahlua sauce on one side of the plate and a spoonful of whipped cream on the other.