Chocolate Blueberry Soy Shake
Boomette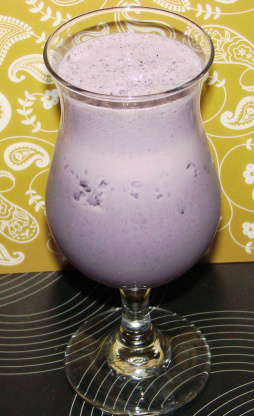 Here's a healthy drink from the May 2007 cookbooklet, Smoothies & Summer Drinks.

Yum, yum!!! I have to give this a top rating because it's such a terrific idea, even though I did vary it a bit. I used carob powder instead of cocoa, just b/c I like it and it's a bit healthier– I actually used close to a tablespoon to get the right amt. of carob-taste. Probably cocoa would require less. Still, this basic combination is fabulous! I will definitely try it again soon, with vanilla soymilk and cocoa! Thanks so much!! :)
Place all ingredients in blender, blending at high speed until well-blended, about 30 seconds.
Pour into chilled glass & enjoy!