Kansas A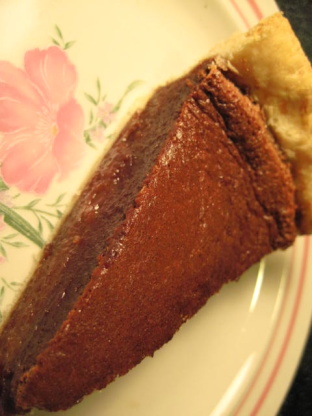 Sandy Miller gave me this recipe. It is great because it is so simple and I usually have all of these ingredients on hand.

So yummy! I have a recipe that's very similar that I've made numerous times (uses 2 eggs, no other changes), so I knew this would be good. So easy and a big family favorite. Wonderful as is or topped with fresh whipped cream and chocolate shavings. I never melt the butter, just throw all ingredients in the blender and blend thoroughly. Just be sure wet ingredients are on the bottom so it will combine evenly. Makes a great last minute dessert that tastes a lot more complicated than it is. Thanks for sharing the recipe!
Mix eggs, sugar,milk, and cocoa in blender for 1 minute.
Add 1/2 stick melted butter, pinch of salt, and 1 teaspoons vanilla.
Blend;pour into unbaked pie shell.
Bake at 350 degrees for 40-45 minutes.