Chocolate Berries Cake With Mascarpone
awalde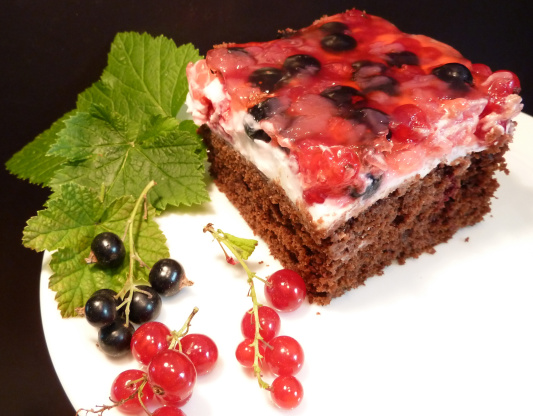 I've prepared this fresh and moist cake many times adapting the ingredients to what is available. I hope you will like it as we do.

Almost too pretty to eat, but we managed somehow! This cake was so delicious and we loved the fruit on top. I could not find mascapone cheese at any of my grocery stores (not sure why?) so I used cream cheese with a little sour cream mixed in to make it more spreadable. I also used a store-bought glaze and used blueberries and raspberries on top. This would be a great Company cake if you don't mind sharing. Made for the AUS/NZ Make My Recipe Tag, February, 2012.
Dough

120

g butter (4 ounces)

100

g sugar (3 1/3 ounces)
1⁄2 teaspoon vanilla

1

pinch salt

3

eggs

180

g flour (6 ounces)
1⁄2 teaspoon baking powder

1

tablespoon cocoa powder

Cream

250

g mascarpone (6 ounces)

125

g Quark (4 ounces) or 125 g cream cheese (4 ounces)

75

g sugar (2 1/2 ounces)

1

tablespoon lemon juice

Berries

450

g mix berries (raspberries, strawberries, blackberries, blueberries or other berries, 15 ounces)

Glaze (substitute any fruit jelly)

10

g glaze, powder for tarts if possible red (0.35 ounces)

1

cup water (or as described on the jelly package)

2

tablespoons sugar (optional, if possible from berries or pomegranate) or syrup (optional, if possible from berries or pomegranate)
Heat your oven at 160°C ((320°F).
Mix butter, sugar, vanilla and salt until soft and smooth.
Add eggs one by one und mix until incorporated.
In a separate bowl mix together flour, baking powder and cocoa.
Add flour mix to egg mix and work until smooth.
Grease you baking mold (about 25 to 30 cm or 10 to 12 inches) and spread on it the batter.
Bake 25-30 minutes until through at 160°C (320°F).
Let cool down.
In the meanwhile prepare your cream mixing together mascarpone, quark, sugar and lemon juice.
Spread the cream over the cake base with a spatula.
Prepare the glaze as described on the package (I use http://www.curiosityshoptea.com/store/product/8550/Dr-Oetker-Red-Cake-Glaze/) adding sugar and if you like the syrup. Heat as decribed.
Let cool down 5 minutes.
Spoon or brush the glaze over the berries.
Let sit for 2 hours in the fridge.
Cut in pieces and serve.
Note: Change the berries depending from what you have on hand! You can add some liqueur to the jelly too!