luvmybge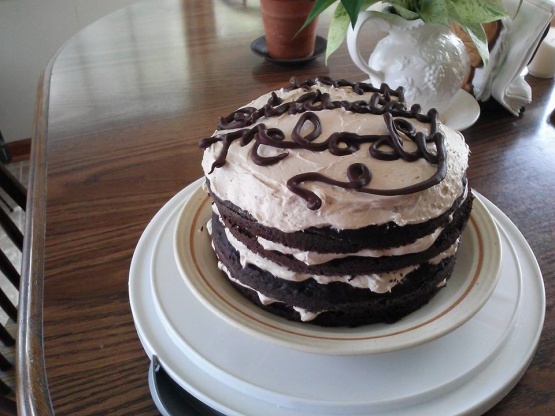 My friend Roz found this recipe in the newspaper and it is just delicious. So easy, too. The original recipe called for whipping cream, whipped.. but she used Cool Whip whipped toopping and it was VERY good.

I made this cake to take to work and it was easy. I was a little leery of putting the cream filling on the top of the cake, so I opted for a chocolate ganache instead. I will also sweeten the filling a little more the next time I make it. It was a hit with my co-workers. Thanks Sheryll
Bake cake layers according to package directions.
Remove from pans.
Let cool.
Split each layer in half.
Cream brown sugar, vanilla, cream cheese and salt until sugar is dissolved and mixture is light and fluffy.
Fold in whipped cream or Cool Whip® topping.
Put one layer on plate.
Top with some of filling.
Add next layer.
Top with more filling.
Add third layer.
Top with more filling.
Add top layer and spread the rest of filling on top.
Garnish with chocolate curls or sprinkle with cocoa.
refrigerate.
Note: An easy way to make chocolate curls:.
Melt a cup of chocolate chips with a teaspoon of Crisco shortening and pour (about 1/4-inch thick) on the back of an ungreased cookie sheet or baking pan.
Let it sit until it firms up (don't refrigerate) and then take a spoon and scrape a long line of chocolate.
It will curl as you scrape.
Or use small metal pancake turner to form curls.
Hold pancake turner at 45° angle and scrape chocolate into curls.