Chocolate Banana Strawberry Milk Shake

Easy to make and tasty way to enjoy your fruits!
Directions
Combine everything but whipped cream in the blender. Blend until smooth.
top with whipped cream and serve.
Reviews
Most Helpful
This turned out pretty good but it does seem to be one of those recipes where you dump everything into the blender and see what happens. I think I would have enjoyed it more as a smoothie without the chocolate and ice cream. I did use the egg white but usually only use them in smoothies to make them light and fluffy...I didn't get that result with this heavy shake. I also had to double the milk because it was too thick for my blender to process. I think the Splenda was overkill in the sweet department...as it already was sweet from the chocolate syrup, fruit and ice cream. Thanks for the breakfast and good luck in the contest!

This is easy to make and has great flavor. We used vanilla fudge swirl ice cream and omitted the egg white as we saw no purpose to it. Our shake was a bit too sweet, and sort of thin, and since another review has posted theirs being thick, perhaps the egg white acted as a thickener. Not quite sure but next time we would omit the splenda also. Thanks for sharing your recipe. :)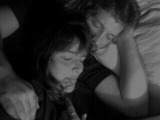 I liked it! The chocolate added a wonderful depth to the flavor, offsetting the sweetness of the strawberries and banana. I'd never frozen a banana before, so I didn't realize it would be so hard to peel and slice. Should I have peeled and sliced it first before freezing and put it in a baggie? Anyway, very good job chef! Made for RSC, please see my rating system as I rate tougher than most.