Chocolate Banana Porridge (Oatmeal)

This is great for a chocolate fix, a decadent brekky recipe adapted from Mr Breakfast.
Directions
Combine 1st 4 ingredients, cook on high in the microwave for 1 1/2 mins stirring after 1 minute.
Most Helpful
Nice, filling treat for breakfast. Next time I will just cut the bananas thinly so as to better preserve the true banana flavor. I added a 1/2 T of half & half at the end to thin it out a bit. UPDATE: I made this again today and cut the banana into small pieces instead of mashing it and I really loved it that way. I used mini chocolate chips which melted nicely. Thanks for sharing. Great breakfast this morning!

The oatmeal came out pretty good. I had to microwave the oats about a minute longer than directed to get it to the consistency I liked, but other than that they came out nicely. Next time I plan on trying fewer chips with a little sugar, and maybe using milk instead of water.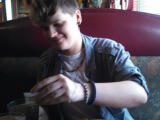 This is a great breakfast oatmeal! I cut my banana into tiny pieces instead of mashing, otherwise made as directed. Surprisingly, this was not overly sweet - it was just right. I served mine with a little milk and really enjoyed - thanks for sharing your recipe!