Piya.HMO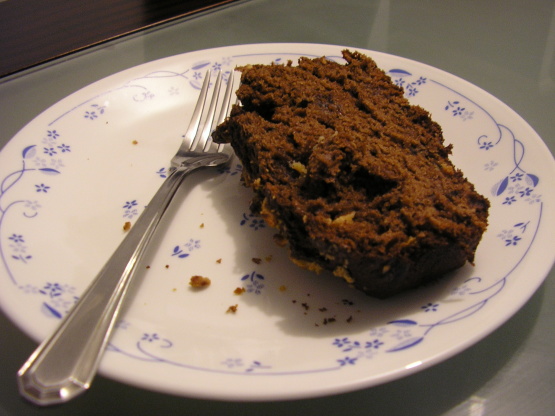 A 'quick bread' based on a cake mixture but baked in a loaf pan. I was in the situation where I had 3 over-ripe bananas, a bit too soft for eating but perfect for a cake. Normally I would make a simple banana bread or banana cake for my husband, but as he is away on a trip, I have a brother-in-law to contend with who won't think of eating anything that looks remotely healthy. So I made this wonderful loaf, with the goodness of bananas and the comfort of chocolate. Enjoy.
Preheat oven to 180 degrees C with a rack positioned in the centre of the oven. Grease a loaf pan, and place a square of baking paper in the pan, allowing the paper to overhang over the long sides of the pan (to easily remove the loaf once cooked).
Place the flour, baking powder, bicarb soda, sugar, salt and cocoa in a large bowl. Use a fork to combine the dry ingredients together.
In another bowl, use a fork to mash the bananas. Add the eggs, vanilla and melted butter, and mix together well.
Make a well in the dry ingredients and pour in the banana mixture. Use a wooden spoon to fold everything together, until the batter is just combined (don't overmix). Ensure there are no areas of unmixed flour at the bottom of the bowl. Fold in the white chocolate chips.
Spoon batter into the loaf pan (it should be quite thick and smell fantastic). Scatter over the chopped nuts.
Bake for 55 mins to 1 hour, until a skewer inserted into the centre of the loaf comes out clean. Cool 5-10 mins in the loaf pan, and then remove to a wire rack. Delicious warm as a dessert, or at room temperature with a cup of tea.