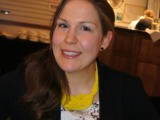 I have very fond memories of these as a little whipper snapper and remember them as the only good thing about my Uncle's cranky ex-wife :) Super easy and heaps tastier than rum balls (personal opinion)
1 (0.55 g) packet plain sweet biscuits (I use Marie)
1 (1 5/8 ml) can condensed milk (You can make your own!)
1 cup coconut
2 tablespoons cocoa powder
Directions
Crush the biscuits until they're down to a fine crumble texture. Then mix the cocoa, coconut and crushed Marie biscuits together.
Add the condensed milk and stir all the ingredients together until well combined.
Using slightly wet hands, roll the mixture into balls.
Roll in coconut before placing in fridge to harden.
Most Helpful
Wow! I made these this morning and they were amazing! In the US, we don't have Marie's so I used short bread cookies and crushed them up instead. I am thinking that these would be delish with some walnuts in the mix next time! Thanks! Made for ZWT 5 - Jammin Java Jivers.

These are tasty lil' buggers!!!! Since I'm in the U.S. though, and don't have access to the Marie's biscuits, I decided to use Nabisco Nilla wafers thinking that that would be a fairly good substitute. And it was! I had trouble converting it, but zaar members came to the rescue! I used 3 cups crushed wafers (about 3/4 of a 12 oz. box), a 14 oz. can sweetened condensed milk, and the rest according to the recipe. The only thing I screwed up was that, I didn't have enough coconut. I had just a bit more than a cup, and didn't realize that you need 1 cup PLUS plenty extra for rolling. But no matter! I rolled a few in the last I had, then rolled the rest in chopped pecans! :) Wahlah! :) Next time I make these, and there WILL be a next time! ;) , I may sneak a lil Kahlua or Bailey's in there, too! And maybe a tad of vanilla extract to make up for the wafer that probably didn't have as much flavor as the original ingredient. Thanks so much!! :) Made for the ZWT5! :)

I used Arrowroot biscuits for these as we live in a small town with not a lot of choice. I made these for our Grandaughter's wedding. Fast and easy to make, not to mention how yummy they are. I made 58 small balls. And I could have stood there just popping one after another into my gob!!! Very addicting. Thank you KristinV for sharing. Made these for ZWT Zingo for The GroovyGastronomes.