Ms B.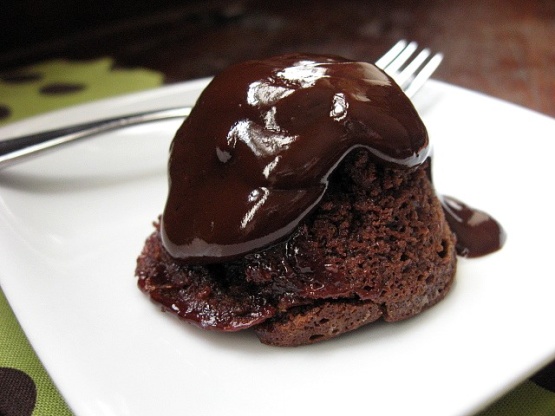 This is an adopted recipe in which I discovered an error when I gave it a go for the first time. The original recipe did not include the initial 3 ounces of chocolate for the cake batter. I was mid-way through preparation when I noticed the error and did a quick web search for similar recipes. While I did not find this exact recipe, I did find others that led me to the 3 ounce proportion for the chocolate. The other recipes that I found online referenced a molten middle for the little cakes. Baking 15 minutes didn't leave me with any gooey chocolate spilling out. Perhaps the bake time is a little long, or perhaps this cake isn't the "molten" type. I don't know. I am really not a baker, but the cakes were still little bites of deliciousness. Tiny and perfect for that chocolate craving at the end of meal, but not so big to make you feel guilty for ignoring your diet and eating it.
3

ounces semisweet chocolate

2

tablespoons butter

3

tablespoons sugar
1⁄8 teaspoon vanilla

1

egg, separated

1

tablespoon flour

2

tablespoons raspberry jam

2

tablespoons heavy cream

1

ounce semisweet chocolate
Melt 3 ounces chocolate in a double boiler, let cool.
Cream butter, sugar and vanilla until fluffy for 30 sec.
Add egg yolk and stir in flour, melted chocolate.
Beat egg white in a separate bowl until foamy with 1 tbsp sugar.
Fold into chocolate mixture.
Fill 8 mini muffin tins 2/3 full.
Drop 1/2 tsp of jam in center and refill with mixture.
Bake at 325 degrees for 15 minute Let Cool.
Dip top of cakes with glaze prepared from cream and 1 oz of chocolate mixed together.
Top with raspberries if desired.