Chocolate Babka (Bread Machine)
Rita1652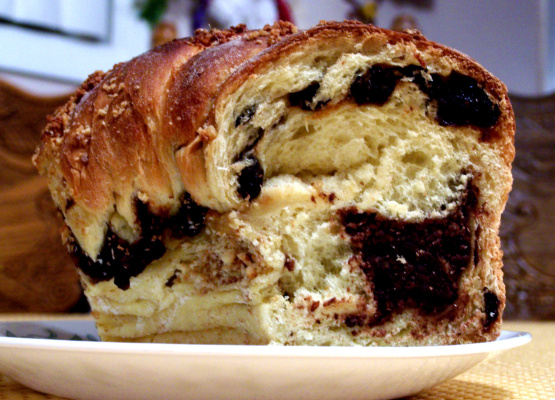 Who doesn't like Chocolate? Chocolate babkas seems to be where it is at! This comes out beautifully in the bread machine. The raisins can be omitted. Soaking the raisins in rum, rose water or orange blossom water gives this an extra treat.
Place biga ingredients in bread machine according to your manufacturers directions. Start on dough cycle. Let mix for 2 minutes (It doesn`t need to go for the full time of the dough cycle) then unplug and leave closed till the next morning.
Dough:.
The next morning add butter to biga which at this point should have collapsed. Whisk well eggs,sugar and vanilla add to machine. Top with flour.
Set machine for dough cycle. At beep add raisins and zest.
Meanwhile mix filling ingredients together in a food processor and chill till ready.
Grease tube pan well and coat with cookie crumbs.
Preheat oven to 350 degrees.
When dough is done turn out on to a lightly floured work surface, and punch it down to release the built up gases.
Roll out into a rectangle 8 by 14 inches.
Spread the filling then roll them up jellyroll style and pinch the seams to seal them. Flatten the dough slightly with a rolling pin, then twist the dough 6 to 8 times. Allow the dough to rest a few minutes. Make spirals with the dough and place them in a greased tube pans. Cover pan with a damp cloth, and let rise in a warm place until almost doubled in volume, about 30 to 60 minutes.
Bake the cakes for 45 minutes; then let cool in the pan.