Chocolate Apricot Pecan Torte
katew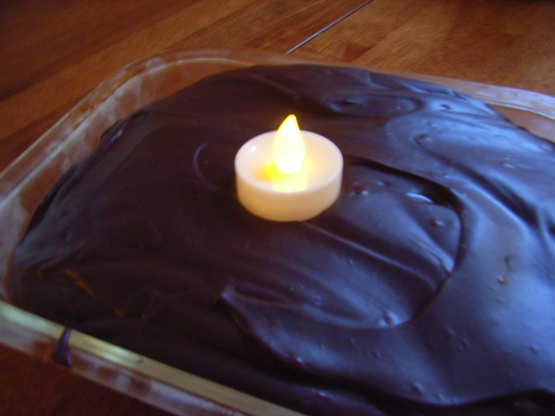 This recipe comes from an old Bon Apetite magazine. My dear friend's boyfriend baked this torte for her birthday one year and after I had the honor of tasting it -- I told her she that she had my blessing to marry him. They have now been married for over 20 years so I guess I was right!!! I am placing this recipe here for safe keeping. This is the second time I have had to request the recipe from my friend and I promised to place it somewhere safe and secure.

Top Review by katew
This was like a dense mud cake brownie, small serves only required but very delicious and moreish. I ran out of apricots so used tiny diced dried cranberries instead which worked really well. They were tiny bites of zing amidst the deep chocolate flavours.
1⁄3 cup cognac
1 1⁄4 cups dried apricots, cut into 1/4-inch pieces (approx. 6 ounces)

1

tablespoon butter, room temperature

3

tablespoons dry breadcrumbs
3⁄4 cup unsalted butter, room temperature

1

cup sugar

5

eggs, room temperature

6

ounces semisweet chocolate, melted and cooled
1 1⁄2 teaspoons vanilla
2⁄3 cup dry breadcrumbs
1 1⁄2 cups pecans, coarsely chopped

1

tablespoon all-purpose flour
1⁄2 cup unsweetened cocoa powder
1⁄2 cup sugar
1⁄2 cup cream, whipping
1⁄4 cup unsalted butter, cut into small pieces

2

tablespoons cognac
1⁄2 cup apricot jam
1⁄2 cup pecan halves (optional)
For cake: Heat cognac in medium saucepan until just hot. Remove from heat and mix in apricots. Let soak 15 minutes. Strain apricots, reserving any soaking liquid for glaze.
Preheat oven to 375 degrees. Butter an 8 1/2 inch springform pan with one tablespoon butter. Dust with 3 tablespoons breadcrumbs. Using electric mixer, cream butter until light and fluffy. Gradually beat in sugar. Beat in eggs one at a time (mixture may look curdled). Add chocolate and vanilla. Mix in 2/3 cup breadcrumbs. Combine pecans and flour and blend into batter. Fold in apricots. Spoon batter into prepared pan. Bake until tester, inserted into middle, comes out clean - about 50 minutes. Cool in pan on rack.
Run knife around edge of cake. Invert onto platter. Slide sheets of waxed paper under edges of cake.
For icing: Stir cocoa powder, sugar, whipping cream and butter in top of double boiler over simmering water until mixture is shiny and smooth, about 5 minutes. Cool icing for 5 minutes, stirring occasionally.
Pour icing over cake , tilting cake to cover evenly. Using thin flat spatula, spread icing over top and sides of cake. Refrigerate until icing is firm.
For glaze: Add enough cognac to soaking liquid reserved from apricots to measure 2 tablespoons. Combine with jam in heavy saucepan. Stir over medium-low heat until melted. Strain through fine sieve into small bowl. Cool until tepid, approximately 5 minutes.
Pour glaze over top of cake. Using thin metal spatula, spread evenly -- do not let any drip down sides of cake. Arrange pecans around upper edge of cake, ends touching. Discard wax paper. Refrigerate cake until glaze is set. Cake can be prepared up to one day in advance.