ImPat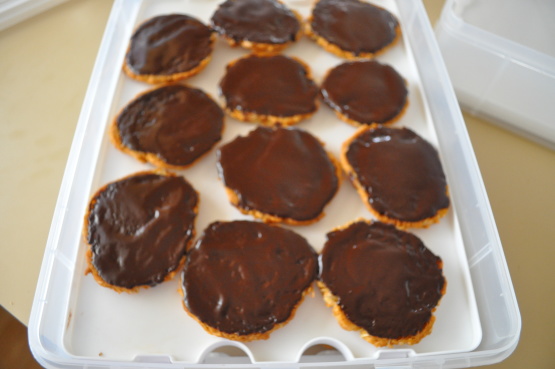 I got this recipe from the Sunday Magazine in the Herald sun by Donna Hay. I wanted to take a picture, but they were gone by the time I got the camera out! A yummy addition to the great Aussie favorite!

Top Review by ImPat
I made these for the DS's recreation music group were they were well received but I think I really made a mistake in using a rich dark chocolate to coat them (my personal preference - I think they would have preferred a milk chocolate but it was all I had). I got 21 large biscuits from the mix and baked them for 10 minutes at 150C fan forced oven and only used 200 grams of chocolate to coat (melted a 100 grams at a time in the microwave). Thank you Tisme, made for Aussie/NZ Recipe Wap #39 April 2010.
Preheat the oven to 160°C Place the oats, flour sugar and coconut in a bowl and stir to combine; set aside.
Place the butter and golden syrup in a small saucepan over a low heat and stir until melted and combined. Place the water and bicarbonate of soda in a bowl, stir to combine and add the butter mixture. Pour the butter mixture in with the oats mixture and stir until well combined.
Place tablespoons of the mixture onto baking trays lined with baking paper, allowing room for spreading. Flatten slightly and bake for 10-12 minutes or until golden in colour. Allow to cool on the tray. Spread 1 tablespoon of melted chocolate on the base of each biscuit and place the biscuit chocolate side up, on a wire rack until set. Make about 24.