flower7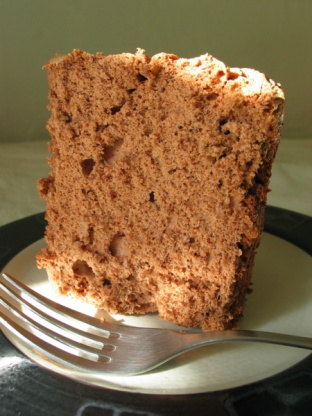 I love chocolate and angel food cake, so this seems like it would be awesome! I bet it would be good served with strawberries instead of the frosting, as well. Cook time includes chilling the frosting, if making. ZWT 3: U.S. (angel food cake)

Wow! This is fab-u-lous! I skipped the frosting (didn't need it for my taste). Would be *great* with strawberries or strawberry sauce, though. I'd never had chocolate angel food before and thought it sounded great - our church just got done making 150 batches of Homemade Noodles and had "some" egg whites leftover LOL. I used some of them to try this cake and I'm soooo glad! Thank you for the recipe!
Cake: Sift together the confectioner's sugar, flour, and cocoa three times; set aside. In a mixing bowl, beat egg whites, cream of tarter and salt until soft peaks form.
Add sugar, 2 tbsp at a time, beating until stiff peaks form.
Gradually fold in the cocoa mixture, about a fourth at a time.
Spoon into an ungreased 10 inch tube pan.
Carefully run a metal spatula or knife through batter to remove air pockets.
Bake on lowest oven rack at 375 for 35-40 minutes or until cracks in cake feel dry.
Immediately invert pan and cool completely. Run a knife around edges of pan, and along center tube, to loosen and remove cake.
For frosting: combine all frosting ingredients; cover and chill for 1 hour. Beat until stiff peaks form and spread over top and sides of cake.
Store frosted cake in the refrigerator.