Chocolate and Pistachio Whiligig Buns
Rita1652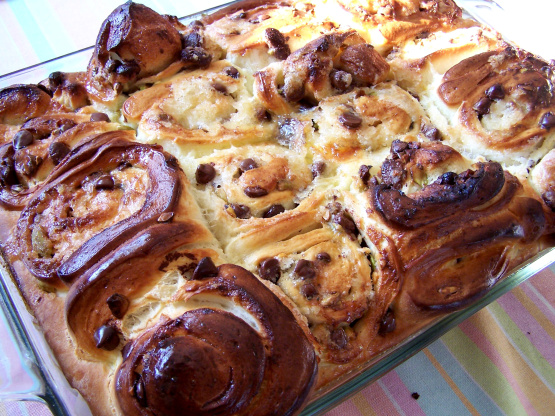 I found this yummy sounding recipe on the New York Times website. I haven't tried it yet, but I adore pistachios, and can't wait!

I made this in the bread machine placing liquids first then the dry using 2 teaspoons bread machine yeast, setting on the dough cycle. The dough is Lovely and Airy easy to work with. I did follow the directions for 1/3 of the dough to be placed on the bottom. But I think I`d like to fill and roll it all. So it can be more of a pull apart then slicing. Just be sure to well butter the pan if you decide to do it. The sides did come busting out of the pan and the center took longer to bake. For this reason I would lower the heat to 375 and cook a 15 longer. Thanks Mirj for the good eats!
To prepare the dough, heat oven to 450 degrees.
In a large bowl, combine 5 cups flour, sugar, salt and yeast.
In a small saucepan, combine 7 1/2 tablespoons butter and the milk, and place over low heat until lukewarm.
In a medium bowl, beat eggs lightly, and then whisk in milk mixture.
Stir the liquid ingredients into dry ingredients.
Using a mixer with a dough hook, or by hand, knead dough until smooth and springy, adding more flour if necessary.
Form into a ball, and place in an oiled bowl.
Cover with plastic wrap, and let rise in a warm place until double in size, about 30 minutes.
Punch down dough.
Line a 13-by-10-inch baking pan with parchment paper.
On a lightly floured surface, roll out one-third of the dough, and place in pan.
Roll out remaining dough to a rectangle about 20 by 10 inches.
To make filling, mix together the butter and sugar to make a paste.
Spread paste evenly over large rectangle of dough.
Chop pistachios until splintery, and sprinkle evenly over dough.
Top with chocolate chips.
Starting from longest side, carefully roll up dough so it looks like a long sausage.
Cut dough into 20 slices, each 3/8 inch thick, and arrange with a cut side up on top of dough in pan.
Brush buns with beaten egg, and let them sit in a warm place until puffed up and snugly filling pan, about 15 minutes.
Bake until buns are risen and golden brown, 20 to 25 minutes.
Remove from baking pan to cool on a rack.
Serve warm.
Makes 20 buns.